The speed, reach, and remote characteristics of USSD services have proven a powerful tool during the COVID-19 pandemic. Due to lockdowns and social distancing, traditional field data collection has been hindered. Yet many organisations working in the development sector have to continue with essential activities, especially related to basic services such as nutrition and health. Collecting data for programmatic decisions is key for organisations that need efficient and purposeful mobilisation of their resources. USSD services have proven to be an effective solution.
What is USSD?
Unstructured Supplementary Service Data, better known as USSD, is a digital communications protocol used by mobile phones to communicate with their mobile network operator's computers. As a service, USSD allows mobile phone users to interact with a remote application from their device in real time. It is a highly scalable service as it does not require an Internet connection and is supported by any mobile phone.
When a user sends a message to the mobile phone company network, it is received by a computer dedicated to USSD (see the image below for more details on the process). The computer's response is sent back to the phone, generally in a basic format that can easily be seen on the phone display. Messages sent over USSD are not defined by any standardisation body, so each network operator can implement whatever fits their purpose of communication and is most suitable for their customers.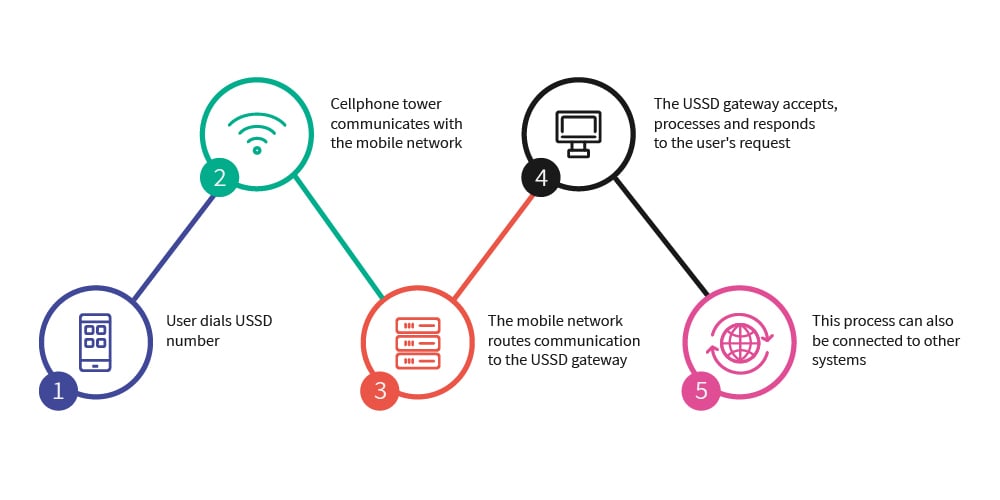 Using USSD in the Scaling Sustainable Nutrition for All programme by SNV
SNV Netherlands Development Organisation and Akvo have collaborated in the agriculture sector to support SNV's monitoring of farmer income through the adoption of sustainable land management practices, agroforestry, and deforestation free supply chains. With SNV Zambia, Akvo is also involved in Scaling Sustainable Nutrition for All (SSN4A), one of SNV's food security programmes. This programme aims to improve the diets of women at reproductive age (including adolescents) and infants (6-23 months) over a two year period. They seek to eventually cover 100% of wards and 90% of households in the Zambian districts of Lunte, Mporokoso and Mungwi. Recognising that improvement in nutritional outcomes are affected by gender roles within households, SSN4A engages both men and women within the community to review and address intra-household decision making on food production, expenditure, consumption and allocation, as well as access to resources and women's time and workload, that often affect care practises.
When COVID-19 broke out, SNV had a serious challenge in continuing to deliver their services, and were especially blind-sighted by the potentially heightened food security needs their beneficiary population were facing as a result of COVID-19. We partnered with SNV in Zambia in mid-2020 to monitor the current and expected impacts of COVID-19 in the SSN4A programme, focusing on the health, nutrition and agriculture sectors.
Implementing USSD in Zambia with SNV
The main objectives of the COVID-19 monitoring in the context of the SSN4A programme in Zambia were outlined as guiding principles for data collection and analysis. These were:
To improve understanding of current or expected impacts of COVID-19

To monitor the effectiveness of current mitigation/preventative measures
In order to gather the data required to fulfil these objectives, we agreed with SNV that remote data collection would be an appropriate and effective tool, given the urgency of getting the data to make quick programmatic decisions, and because traditional field work wasn't feasible. USSD was selected as the main method for gathering information through rapid assessments that would be distributed via phone networks to gauge the population. The key selected districts were in the northern province of Zambia - Lunte, Mporokoso and Mungwi.
An important component of the USSD interface is the shortcodes. A shortcode is a number to which an SMS or text message can be sent, and it is used to prompt a survey in the mobile device dialling the code. The surveys created for SSN4A used USSD shortcodes targeting relevant stakeholders in the health, nutrition and agriculture sectors. SNV worked with its network of government officials, village chiefs, and other local authorities while carrying out these assessments. It is important to highlight that this was done on a limited and non-representative number of interviews, so caution was warranted for interpretation. Nonetheless, the assessments were rather seen as a tool for generating points for discussion under relevant themes, rather than to help SNV draw conclusions based on statistically significant information. Therefore, the discussion was aimed at driving decision making for value chains, food security, and nutrition through key insights obtained from the data.
Initially, we met the SNV team through video call to fully align on the programme reporting process. This included a presentation to SNV of the shortcodes that would be used. We then helped develop the shortcodes in April 2020, procured the SMS gateway, and integrated it within our data collection system - Akvo Flow - to enable receiving data from the USSD codes.
After that programming process was complete, we digitised the questionnaire in Akvo Flow and linked it with the SMS gateway. We then piloted the shortcode in June, which helped to improve the questionnaire and provide insights to tweak the system to ensure functionality. Once the pilot was complete, the data collection kicked off. In order to interpret the results, we created some dashboards that connect directly to Akvo Flow, and are visualised through our visualisation software - Akvo Lumen. An example can be seen in the image below, and via this link.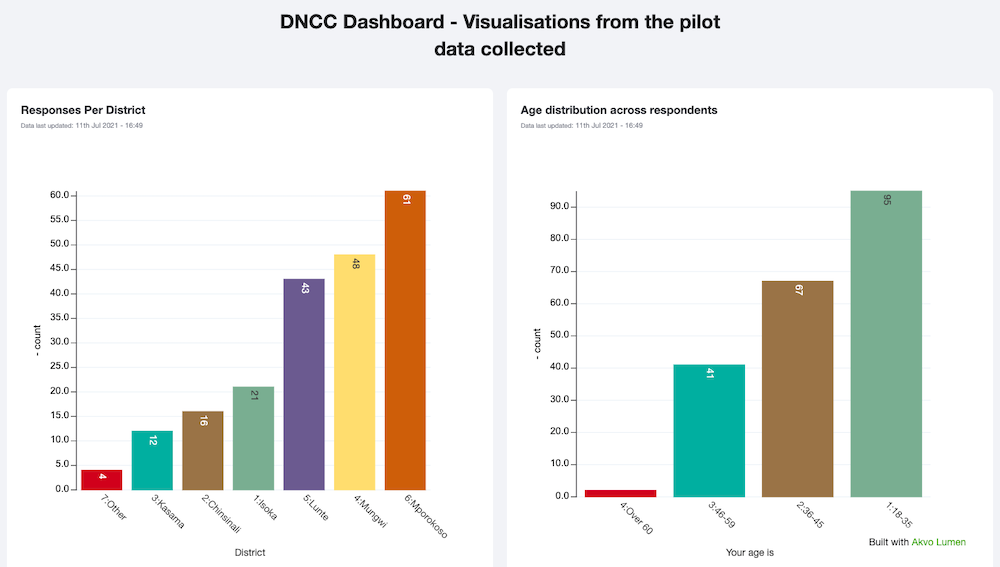 Key findings
Our team in Zambia analysed the data and created a report, which SNV used to capture some key insights on the food security situation in Zambia. Some of the most relevant statistics are presented below:
72% of respondents mentioned a decline in supply of food in markets due to COVID-19

9 in 10 respondents mentioned that food prices increased as a result of COVID-19

75% of respondents said that their eating habits had changed due to COVID-19

Out of the 75% respondents whose eating habits had changed, 45% were eating less meals in a day

65% of the respondents had witnessed malnutrition
These findings allowed SNV to take action and devise strategies to support communities to cope with the lockdown situation. Thanks to this remote data collection method, SNV were able to allocate their resources more effectively, and act upon their strategies through data based decision making.
Do you want to learn more about using USSD for your data collection?