The challenges facing the international development sector are complex. Often, programmes involve multiple partners with different resources spread across the globe. High quality data is essential in making informed decisions and improving programme results. But gaining a comprehensive overview of what data is needed to best track those results can be a challenge. For programme managers and consortium leads, this can lead to an overload in admin, miscalculated budgets, and unclear results. So how do you design your programme to ensure that the right data is captured, understood, and acted upon to contribute to sustainable change?
Gaining clarity on the opportunities, challenges and objectives from the start is essential. What problem do we aim to address and which factors will influence our goals? What work has already been done and who was involved? What do we need to monitor to be accountable, steer and learn? How can we effectively track implementation across different locations? What data do we need to monitor results? How can we ensure that the data collected is used for decision making? These questions are at the heart of any successful data-driven development programme. However, they can sometimes come too late, and programme managers are left asking other questions. Why have we overspent on the budget? Why do we have so much unnecessary data? Which data still needs to be collected due to inaccurate and inconsistent collection methods?
Data quality over quantity
In the development sector, streams of data pass through our hands, inboxes, and online tools every day. But collecting data is much easier than discovering knowledge, and many organisations still struggle to make the most of the data they collect. With the definition of the Sustainable Development Goals (SDGs), the development sector has embraced large scale and large volume data use. Too often, however, data is collected using inconsistent methodologies, which can lead to data that is not useable and/or comparable. Sometimes, additional data is collected just because there is the opportunity to do so, leading to data-fatigue and a lack of concrete results for both the collecting organisations and the people from which the data is collected. Lastly, data is not always shared, causing other organisations to collect the same data instead of building on existing data.
The data journey methodology
The data journey methodology consists of four phases: Design, Capture, Understand and Act. They form the starting point for organisations to ensure data is used to contribute to lasting and inclusive impact. These phases aren't always consecutive or prescriptive, there may be some overlaps, and it may be necessary to go back to a previous phase due to findings at a later stage.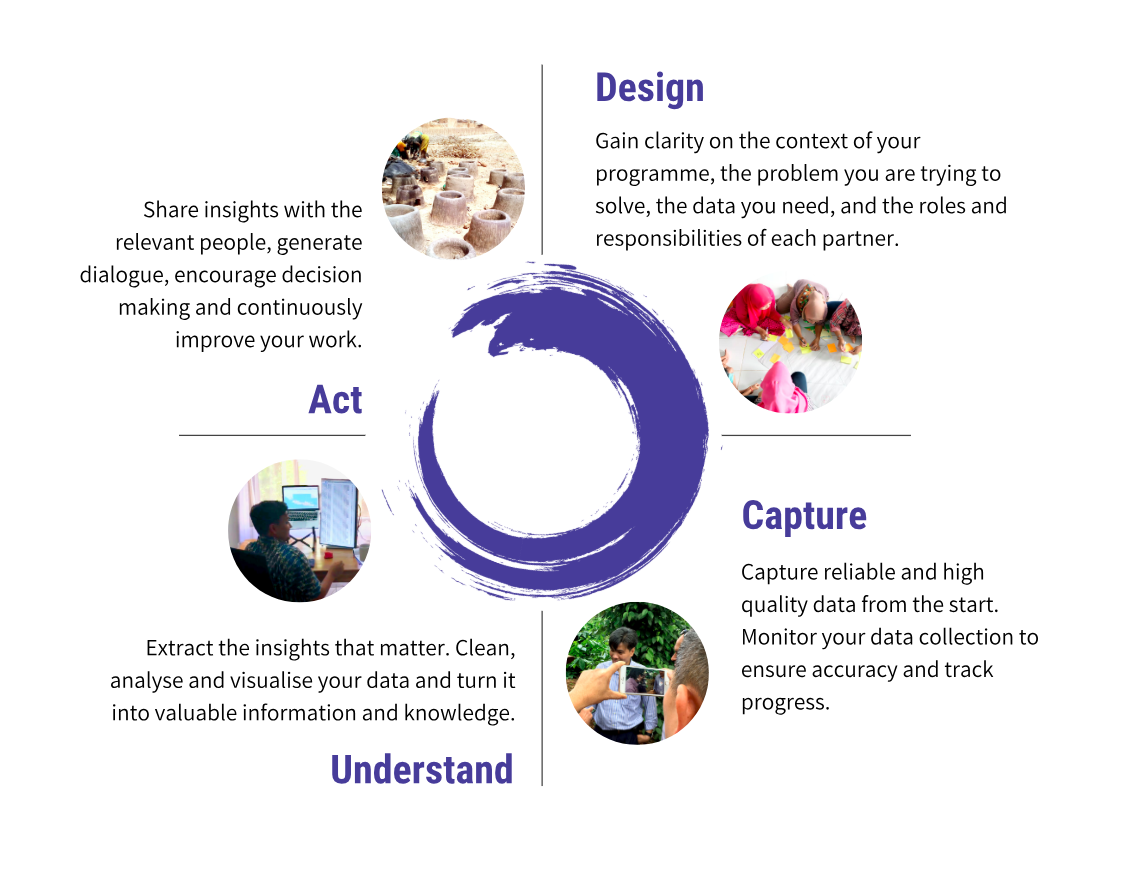 Design
Gain clarity on the context of your programme, the problem you are trying to solve, the results you are trying to achieve, the partners you'll work with, the data you need to monitor progress, and the roles and responsibilities of each partner. The design phase should enable you to define your data needs and prepare for a smooth data capture process. Questions to consider include:
What is the context you are operating in? Who is involved and what is their role?

Which impact do you want to achieve and which outcomes will contribute to it?

Which data will you need for which purpose, which data already exists and which do you still need to collect?

What does the optimal survey design look like to ensure success?

Which sampling plan fits best and is most cost-effective?
Capture
Collect relevant, high quality data from the start. Implement your data collection plan and track progress. Questions to consider include:
Are the tools and skills and logistical plan in place to commence data collection?

How can you verify and ensure the quality of your data on the go?

How best do you organise monitoring cycles of repeated data collection?
Understand
Clean, analyse and visualise your data and turn it into valuable information. Extract the insights that you can act upon. In the Understand phase of your programme, you can generate information which can be interpreted to extract insights.
What data sources are you planning to combine? Is your data clean and ready for analysis?

How can you extract insights from your data?

How will you visualise the data and ensure effective data storytelling?
Act
Share insights with the relevant people, generate dialogue, encourage decision making and continuously improve your work. In the Act phase, you'll share your data to influence change.
How will you share with the key audiences?

Which systems does the data need to be stored in?

How can you amplify your insights and create lasting impact?
For development professionals, following this data journey will ensure smooth and successful implementation of your programme, allowing you to focus on improving and showcasing your results.
Do you want to know more about how the data journey methodology can help you?
Come along to this Partos Future Session in the Hague (NL) or get in touch with us.