A well-formulated results framework, also known as a planning, monitoring, evaluation and learning (PMEL) framework, is designed to let you know whether or not your programme is succeeding. For programme managers, a good results framework is key to gaining a comprehensive overview of how the programme is performing and what decisions need to be made to improve results. Besides improving your programme's results, a good results framework will allow you to monitor the causal assumptions laid out in your Theory of Change that you're unsure about. Based on your monitoring findings, you can adjust your ToC accordingly. In this blog post, we introduce the key steps in designing a results monitoring framework that will save resources, align distributed teams, and improve programmes.
Monitor your outcomes
A strong, well formulated Theory of Change is the foundation of a relevant and useful PMEL framework. All of the steps between the strategy and the impact are expected outcomes that in theory can be monitored, but in practice should not be. Only a small selection of the outcomes should be selected and monitored. For example, out of 25 expected outcomes in the ToC, monitor four or five. Together, the stakeholders can define which outcomes are the most important, as well as practical, to monitor across the programme. Use your ToC as your guide here, choosing the outcomes that are both measurable and contribute significantly to the desired impact. Your resources will also play a role, as some outcomes will be less cost-effective to monitor than others.
Translate your outcomes into indicators
Once you've decided which outcomes to monitor, you can translate your outcomes into indicators that can be measured. Each expected outcome can have one or more indicators that make it possible to measure the progress towards this outcome. For example:
Outcome: The local government effectively monitors WASH infrastructure in district X.
Indicator: Number of water points monitored on functionality and water quality in district X.
Outcome: The national government allocates more budget to WASH.
Indicator: Amount of budget that is allocated to the ministry of water on a yearly basis.
Together, these indicators constitute the programme's monitoring framework. For each indicator, the method used to measure it needs to be determined, as well as the baseline values and target values.
Establish the baseline values
You should be able to measure your indicator accurately using either qualitative or quantitative data. Before you set your target value, you need to establish baseline values in order to monitor change. Primary or secondary data sources can be used to establish your baseline values. Baseline data may already be available, or you may have to collect it yourself.
Define your target values
The next step is to set the target value you expect to achieve with specific timeframe given the scope and resources of your project. Targets help to determine whether progress is being made compared to projected expectations. If actual data diverges from a set target notably, adjustments should be triggered in programme implementation and/or design and expectations.
Determine your data collection methods
Data collection is dependent on the kind of indicators and key questions established. There are a variety of tools and methods for data collection and they may vary by indicator type. For example, for quantitative indicators you might use questionnaires, activity logs, or before/after surveys. For qualitative indicators, you could use interviews, field observation visits, stakeholder meetings, or group discussions. You should also determine here at what interval each indicator should be measured.
Identify the data sources
Identify those responsible for collecting or providing the data. This can be project staff, implementing partners, independent evaluation teams, end users, sensors, or secondary sources. Once these steps have been covered, you can put it into a results monitoring framework.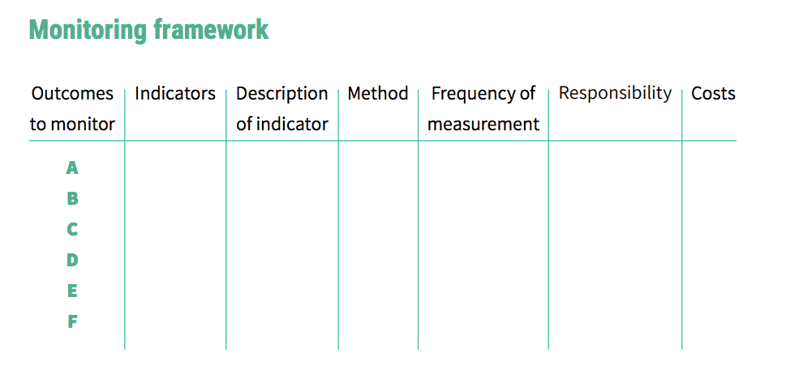 By carefully following these steps, you'll be able to gain a detailed and simple overview of how your programme is performing and what you need to do to improve your results. You'll also be able to use your framework to monitor and adjust your Theory of Change.
Do you want to learn more? Download our eBook!